THE SOUTHERN – Tamms, lab, transition center all needed, cops, prosecutors say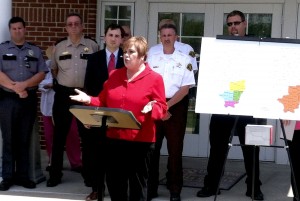 ANNA — Local law enforcement and government officials gathered Thursday at Anna City Hall to protest public safety cuts by Illinois Gov. Pat Quinn.
Among the specific issues discussed were the consequences of closing Tamms Correctional Center, the Southern Illinois Adult Transition Center in Carbondale, an Illinois State Police forensics lab in Carbondale and the consolidation of three state police communications centers and hardship it would bring to Southern Illinois communities.